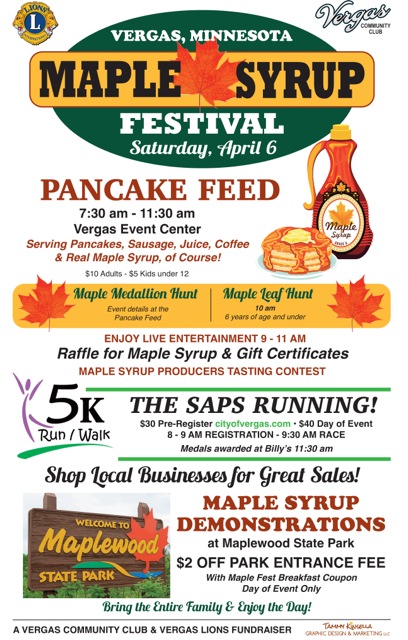 Venture to Maplewood State Park and present the event coupon (you will receive at the Vergas Event Center) for $2.00 off your entrance on April 6th only.
What to do?
Eat pancakes, see how to make maple syrup, search for medallion, run/walk a 5K and shop...
Come spend the day in Vergas on April 6
Brunch at the
Vergas Event Center
with real maple syrup
Travel downtown and visit our local merchants. Many will be open for the spring/summer season and will have great specials!
Buy real maple syrup at these Vergas merchants
The Attic Shoppe Vergas 66 Vergas Hardware Natalie'sSerendipity
Liquor, Beer, Wine Sampling at the Vergas Liquor Store 11-3
Maple Syrup Activities
Sugar House Tours - weather permitting.
Maple Syrup Booths in the Vergas Event Center.