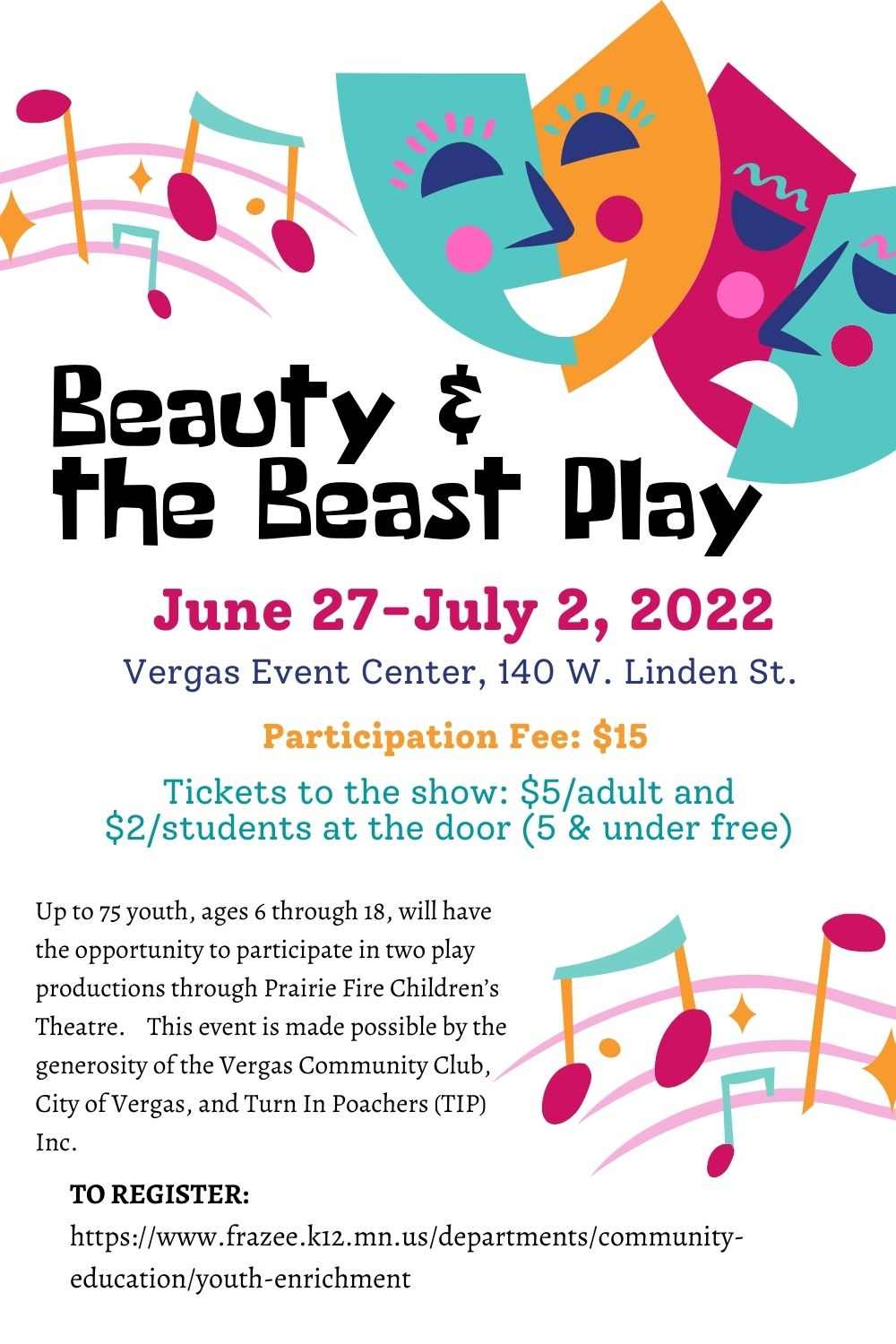 Beauty and The Beast
Musical & Theater Production
June 27 - July 2, 2022
Vergas, Minnesota
Up to 75 youth, ages 6 through 18, from the surrounding communities will have the opportunity to participate in the production of Beauty and the Beast this summer. Roles available are Beauty, her vain sisters, her sweet siblings Claire, Jules, and Jacques, the Gypsies, the servants which include a Doctor, Cook, Maid, Gardener, Painter, and Major and Minor Domo, the Madrigals, the Roses, the Gargoyles, and the Prince. ALL individuals registered will have a part in the play. If you are not interested in "acting" on stage, there are also positions available assisting the directors, helping with costumes, sound, and lighting.
The Prairie Fire Children's Theater directors will work with the students through games and activities and then conduct the auditions as well as direct the production and play. The audition process lasts up to two hours and all those auditioning are required to be in attendance for its entirety. The cast will be announced at the end of the two-hour audition; each cast member will receive a rehearsal schedule for the remainder of the week. A tentative schedule is listed below. A portion of the cast will be required to stay following auditions for a short rehearsal. Please bring a water bottle and a snack.
Costumes and make-up for all parts are provided. Seating is general admission, first-come, first-serve. Parents are invited to record this event if they wish. There will be photos taken at the end of each show. Tickets to the show: $5/adult and $2/students at the door (5 & under free). The participation fee is $15. This event is made possible by the generosity of the Vergas Community Club, City of Vergas, and Turn In Poachers (TIP) Inc.
Auditions:
Monday, June 27; 1:00 pm
Tentative Practice Schedule:
Monday, June 27; 3-5:15 pm
Tuesday, Wednesday & Thursday: June 28, 29 & 30; 1-5:15 pm
Friday, July 1; 3-7 pm
Saturday, July 2; 12-1:30 pm
Public Performances:
Friday, July 1; 7-8:15 pm &
Saturday, July 2; 1:30-2:45 pm
Vergas Community Center, 140 W Linden St, Vergas, MN
LINK:
https://frazee.revtrak.net/tek9.asp?pg=ws_redirect&Extra_params=newurl~eventDetail.html%3Fid%3D1262243