2014 Maple Syrup Fest is April 12, 2014!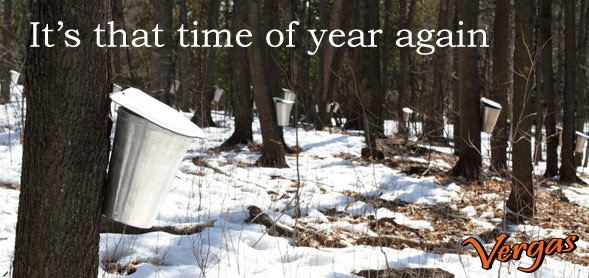 Come and join us for the 14th Annual Vergas Maple Syrup Fest!
Overall Results of the Saps Running in Vergas 5k
Overall Results for 5k by age group
What to do?
Business Specials - Dining - Buy real Maple Syrup - Family Activities - See How Trees are Tapped for Sap
Vergas Community Club (VCC) will be sponsoring chainsaw carver Charlie Kirchenwitz (from (9:30 to 2:00) in front of Vergas Hardware Hank
Come spend the day in Vergas on April 12th Brunch at the Vergas Event Center with real maple syrup
Business Specials
Travel downtown and visit our local merchants. Many will be open for the spring/summer season and will have great specials!
Vergas Hardware - 20% off one item.
Maple tasting at the Vergas Liquor Store for everyone over 21 from 12:00 to 2:00 p.m.
Quiet Cricket on Main will feature a Karla Urbach Schmidt/Trunk show of her fun and funky new designs.
Lost Highway Pottery will be featuring their new glaze in pottery 'black, gray and white.'
CoCo's is also having a 'garden art' trunk show-20% all garden iron and pottery.
The Attic Shoppe has new items arriving daily that everyone should check out!
Come early and stay for a late lunch or dinner
Lunch at Billy's - Maple Brats from 11:00 am until gone.
Lunch at Skål - Maple Glazed Wings from 11:00 am until gone.
Maple tasting at the Vergas Liquor Store for everyone over 21 from 12:00 to 2:00 p.m.
Finish the day at Spanky's Stone Hearth with a fabulous signature drink and dinner special!
Buy real maple syrup at these Vergas merchants
The Attic Shoppe Vergas 66 Vergas Hardware The Quiet Cricket Spanky's Stone Hearth
Maple Syrup Activities
Sugar House Tours - weather permitting.
Maple Syrup Booths in the Vergas Event Center.
Egg Hunt at the Assisted Living at 11:00 a.m..
Click here for registration form for the 5k Run.
Tapping Trees for Sap